Shinji Ikari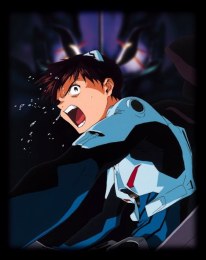 Name: Shinji Ikari
Age: 14 (2015)
Birthdate: June 6th, 2001
Ethnic Origin: Japanese
Place of Origin: Japan
Blood Type: A
Eye color: Dark Blue
Hair color: Dark Brown
Evangelion: Unit-01

Shinji Ikari
(Third Child)
Shinji Ikari is the son of Gendo Ikari. He has very low self-esteem and has literally no confidence. Shinji is afraid of people, especially to open up to them emotionally. His father's absence, coupled with the death of his mother when he was very young, has forced Shinji to develop an odd sort of self-sufficiency but left him unable to relate well to others. He is afraid of being hurt like he was during the early ages of his childhood. When he was very young, Shinji was a very happy child. He lived with his mother Ikari Yui and his father Ikari Gendou. Both his parents worked at NERV. Shinji was so excited one day when his mom took him to work with her. Yui did not know of her husband's secret affair with Dr. Akagi. While Yui was working, Evangelion Unit-01 absorbed her. That was the last Shinji and Gendou saw of Yui. Gendou left his son shortly after Yui's disappearance. Shinji was still very young at that time. This was the reason why Shinji is afraid to open up to other people. Then on Shinji had a bad relationship with his father. He lived away from his father, for most of his life he spent it just going to school. He had no one to talk to or no one would listen to him. At the age of 14 when his father finally needed him he received a letter from his father requesting his presence. Shinji is the great third child, chosen by the mysterious organization, Marduk, in order to pilot Evangelion Unit-01.
When Shinji arrives in Tokyo 3, he lives with Misato instead of his father. She notices that he has a major social problem, which results in few to none friends, but he find a strongly attracted to the mysterious Rei Ayanami.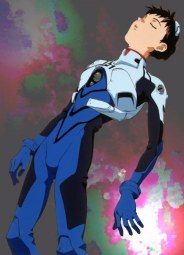 ©2001-2002 Evangelion Mercenaries - This website is for informational, promotional and entertainment purposes only. Neon Genesis Evangelion, Evangelion and all related marks are registered trademarks of Gainax / NAS / TV Tokyo and ADVision (c) 1998. All other characters or photos mentioned or shown are copyright to their respective copyright holders. In turn Evangelion Mercenaries is not affiliated with Gainax / NAS / TV Tokyo and ADVision or their respective trademarks in any official capacity. Evangelion Mercenaries is conceptualized, created, and managed by
GWzWingGundam_0
.